Sweet, creamy, and fragrant risotto.  Ready in 20 minutes.
Serves 4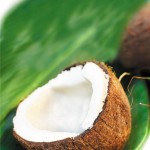 Salt and freshly ground black pepper
1/2 onion, diced
1 tablespoon olive oil
1 cup arborio rice
2 1/2 cups chicken or vegetable broth
1 can coconut milk
1 tomato, diced
2 sprigs parsley, chopped
2 sprigs cilantro, chopped
1 tablespoon butter
Heat broth to just below simmer.
In a medium saucepot, sweat diced onion in olive oil for 2 minutes over medium heat. Reduce the heat to low.
Add the risotto rice, and stir with a wooden spoon to coat it in the butter. Slowly add the chicken broth in 2 equal portions, not adding the second addition until the first has been almost completely absorbed.
Stir constantly during the entire process. After all of the chicken broth has been absorbed, add the coconut milk, and then add enough of the braising liquid until the risotto is cooked to your taste.
Fold in the remaining 1 tablespoon butter, tomato, and herbs. Serve immediately.
Garnish with parsnip chips or fried shallots, if desired.