High in iron and minerals, dino kale is a powerful vegetable.  Couple it with cranberries packed with anti-oxidants and you have a healthy and tasty side dish.
Difficulty = Easy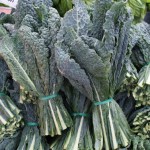 Serves 6
6 cups dino kale, stemmed and cut into small, bite-size pieces
1 tbs. extra-virgin olive oil
1/8 tsp. red pepper flakes
1/4 cup dried sweetened cranberries
salt to taste
Heat a large sauté pan over medium heat. Add the olive oil, red pepper flakes and cranberries.
Stir 10 seconds, and add the kale and 1/4 teaspoon salt. Sauté until tender.
The water that adheres to the greens should be enough water to cook them. If needed, add 1 tablespoon of water to finish cooking.