A crisp, sweet, and peppery salad.  Full of flavor and nutrition with roasted beets for soft texture with concentrated sweetness and packed with vitamins and minerals especially beneficial to the liver.
Difficulty Level = Easy
Serves 2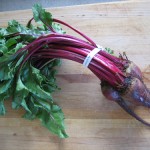 4 small beets (slightly larger than an extra large egg)
3 – 4 cups baby arugula, washed and drained
1 cup walnuts
3 tbs balsamic vinegar
1/4 cup extra virgin olive oil
4 – 5 sprigs fresh thyme
salt and pepper
Preheat oven to 400° F
Wash and trim beets.  Cut in half.
Place beets on sheet of foil, drizzle with 1 – 2 tbs olive oil, season with 2 pinches salt and 1 pinch pepper, and toss to coat.  Pull thyme from steams and sprinkle on beets.
Fold the edges of the foil to create an envelope to allow the beets to steam in their own juices.  Place in oven.  Cook for 45 –  60 minutes until beets are tender.
While beets are roasting, place walnuts in dry skillet, over medium heat.  Toss occasionally, until the nuts begin to show a golden color and become fragrant.  Remove from heat and allow to cool.
Remove beets from oven and allow to cool.
Peel skin from beets with small paring knife.  Cut beets into bite-sized portions (cut each 1/2 into halves or thirds).
In large bowl, place arugula, walnuts, and beets.  Season with salt and pepper.  Drizzle with remaining oil and vinegar.   Toss