This dressing is so delicious you will want to pour it on everything.
Serves 8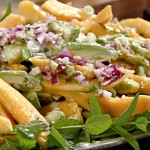 2 Florida avocado, peeled and cut into large dice
2 ripe papaya, peeled and cut into large dice
1 Vidalia onion, thinly sliced
2 bunch baby arugula
4 tablespoons tarragon leaves
Orange and Vanilla Vinaigrette, recipe follows
Layer salad with arugula and tarragon, then avocado, papaya and onions. Finally drizzle with vinaigrette.
Vinaigrette:
2 cup orange juice
2 vanilla bean, split
2 garlic clove, pureed with knife
1/2 cup rice wine vinegar
1 cup extra virgin olive oil
Kosher salt, to taste
Fresh ground black pepper
To a saucepan add orange juice, split vanilla bean and scrape seeds into juice. Add vanilla bean to juice, bring to a simmer and reduce liquid by 2/3.
Meanwhile, smash garlic clove with a pinch of salt using flat side of a knife.
Allow orange juice reduction to cool, remove vanilla bean, then add garlic puree, rice wine vinegar and olive oil. Stir well and season with salt and pepper.